At Croft Farm and Celtic Cottages, we're smack bang in the middle of two of West Wales' most glorious counties, Ceredigion and Pembrokeshire, which offer a variety of fantastic activities for any New Year bucket list.  They're very different counties offering very different attractions – Ceredigion is flatter, more bucolic with rolling fields giving way to colourful fishing ports and inland cascading waterfalls.  Pembrokeshire is home to the famous Preseli Hills (from where you can see the Wicklow mountains on a clear day) and one of the world's biggest and most accessible puffin populations.  The thing that the two have in common is the gorgeous stretches of sandy beaches that intermingle with gorse-dripped cliffs and tied together neatly by the Wales Coast Path – there are 246 miles of it between these two popular walking destinations.
This means that there is also a wealth of water-based activities that draw visitors to West Wales every year.  In these uncertain times, we've swapped out New Years Resolutions for a bucket list of things we can do once life, travel and doing activities are a little easier, and what better way to spend your holiday here with us than splashing around?  Here's our splashing bucket list!
Coasteering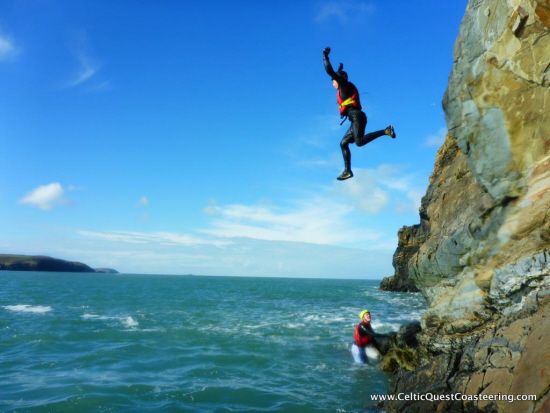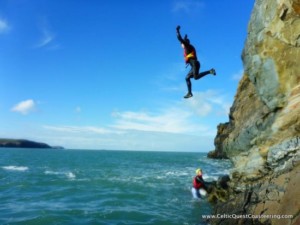 Never heard of it? Prepare to become addicted!   This fledgeling activity originated right here in West Wales and is quickly getting a name for itself among thrill-seekers.  Coasteering is a heart-racing combination of adventure swimming, cliff scrambling and jumping or diving – a wetsuit is a must as this sport is not for those who want to keep their hair dry!
Best spots: 
The rugged cliff folds that jut out into Cardigan Bay at Ceibwr and the surrounding Moylegrove coast offers ample opportunities for some soggy scrambling whilst being sheltered from bad weather.  Alternatively, the Cambrian rocks around the St Davids peninsula, reputedly the birthplace of coasteering, are popular due to the spectacular coastline and possibility of spotting dolphins, too.
We suggest:
Cardigan Bay Active, Ceredigion 
MUUK, North Pembrokeshire 
Wild Swimming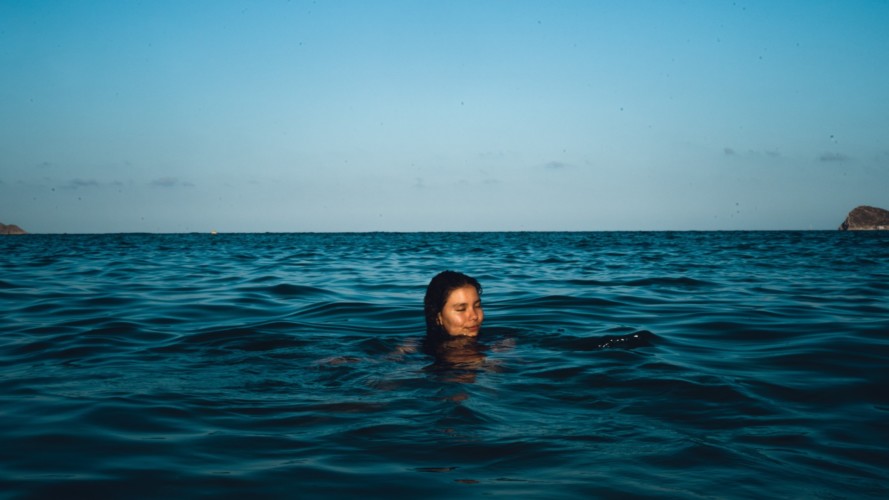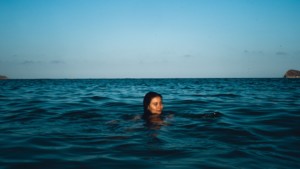 It's the new activity on everyone's bucket list.  Wild Swimming has been advocated for its health benefits such as lowering inflammation, lowering blood pressure and increasing happy hormone production and giving you a blinking good night's sleep.  And while the Irish sea can be rough, on calm days it's the perfect place to go for a cheeky dip…with or without a wetsuit!
Best spots:
Try to find open spaces and calm seas.  Poppit beach is a great place for a swim, as long as you go between the lifeguard flags.  The Blue Lagoon at Abereiddy is a great swimming and coasteering spot, but the water is very cold due to the depth of the sunken mine shaft so go prepared.  Be mindful of tide times, let someone know that you're going out for a swim and, ideally, go somewhere where there are lifeguards on duty.
We suggest:
In Solva, a group of locals have jumped right into this most daring of Pembrokeshire waterports. The Bluetits are a group of skin swimmers who love the thrill of cold water on their skin and the feeling of community that swimming together gives them.  The group is informal, fun, and welcomes anyone who wants to give cold water swimming a try when visiting Pembrokeshire.  Visit The Bluetits Facebook page to find out details of the next swim.  Chuck it on your bucket list!
Swimming without Stress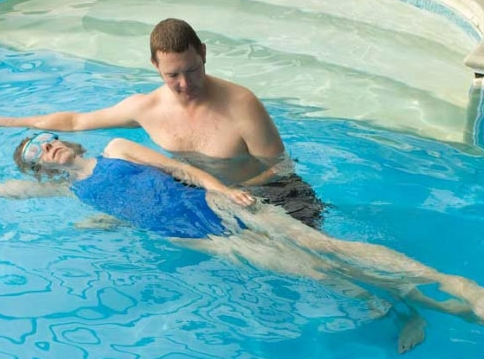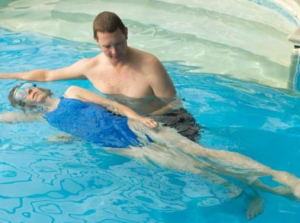 Don't fancy braving the bracing Welsh waves?  Then go no further than your holiday complex!  At Croft Farm and Celtic Cottages, we offer incomparable residential swimming courses in our beautiful indoor heated pool.   Our friends at Swimming without Stress guarantee lots of progress in a short space of time by having the pool to yourself for your swimming lessons.  Using the Alexander technique in water, helping you focus on your balance and breathing while honing your skills, you can transform your skills in the water and increase your confidence and coordination all whilst letting go of nerves and unnecessary tension.
Best spots:
Right here on site – check out our map to see how to find the pool from your cottage.
We suggest:
You can visit the website for more information or give Ian and Cheryl a call on 01239 615179 to talk through your ability, questions and book your swimming break.  Learning to swim whilst on your relaxing holiday – surely that's top of your bucket list?
Surfing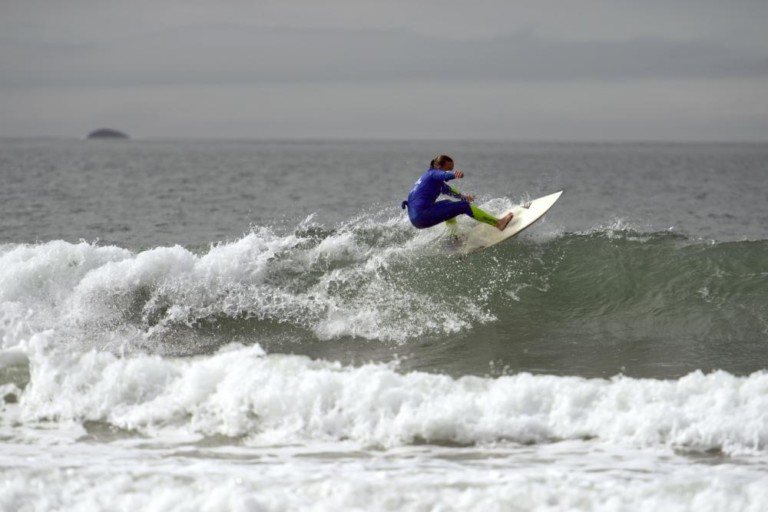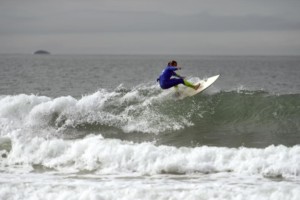 Forget Newquay, Cornwall, we have Newquay, Ceredigion!  Or better still, we have some of the UK's finest surfing spots right on our doorstep, so if learning to surf is on your post-lockdown bucket list then you've come to the right place!  Being situated on the stormy west coast means that we have some spectacular surf and it would be rude not to indulge in a little board time while you're here…even if it means just falling off one for a bit!
Best spots:
Aside from nearby sandy stretch Poppit, with the gorgeous Cardigan Island in the distance, you've also got the pick of Pembrokeshire's finest surf spots such as pebble-strewn Newgale, a hot spot for surfers all year round. If you're up for a drive, the famous Freshwater West is an hour's trip down to the very different landscape of South Pembrokeshire and this beach is well known for being the set of several movies as well as being a surfer's paradise.
We suggest:
Walkin on Water, Ceredigion (Poppit) 
Newsurf, Newgale, North Pembrokeshire 
Outer Reef Surf School, South Pembrokeshire
Boat trips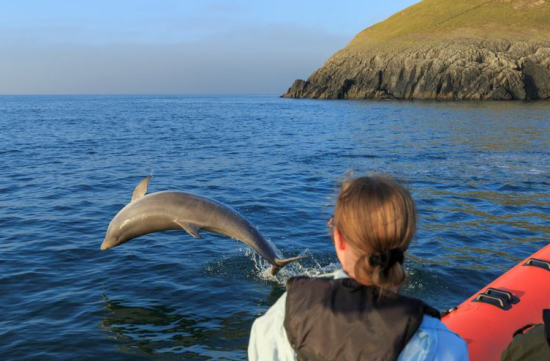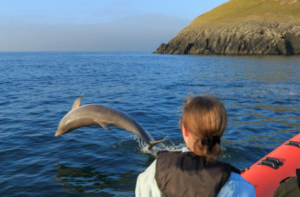 If your water-based bucket list includes being on the water rather than in it, then we recommend taking a boat trip along this world-famous wild coastline.  No matter which county you're in, you're bound to have a blast on a rib or row boat out on the ocean waves.  The waters that lap our stunning beaches are full of life; we're home to porpoise, basking sharks, jellyfish, seals, several hundreds of types of fish and coral, anemones, and all sorts of colourful algae, seaweed and other fascinating sea plants.  This coastline is also home to some of the rarest birds that nest here to feast on the delicious offerings the wild west coast offers them.  Pembrokeshire's islands are home to the third-largest gannet colony in Wales.  Mwnt beach and its warm bay is home to Ceredigion's resident porpoise population.  And wherever you go, especially in the Autumn, you're bound to see a nosey seal pop up somewhere!  There's nowhere better to see the life in the sea than on it.
Best spots: 
In Ceredigion, a trip around Cardigan Island is a must.  An uninhabited island lying just north of Poppit beach and Gwbert, it's home to a small colony of grey seals and, until a wrecked boat unleashed rats onto the island, was the home to Ceredigion's last puffins – you can still see the colourful counterfeit birds placed there to try and attract the real thing back.  In Pembrokeshire, the islands around St Davids head are extremely popular; Ramsey is the fourth largest island in Wales and is covered in caves filled with wildlife, whereas its larger sister Skomer is home to half the world's Manx Shearwaters as well as the largest Atlantic puffin colony.
We suggest:
A Bay to Remember, Ceredigion 
Falcon Boats, Pembrokeshire 
Voyages of Discovery, Pembrokeshire