Spring is in the air, the Welsh government are amenable to local guests visiting and lockdown is finally beginning to lift, meaning that we're finally allowed out into the great outdoors once more.  After months of feeling cooped up and stuck in a rut, we're thrilled to be able to open our doors to Welsh guests and hope it won't be too long until everyone is allowed to come and visit us safely once more.  As yet, we're not quite sure what the next few months will look like, and we know many of you are wondering what it is that you'll be able to do when you arrive with us.  We're constantly updating our social media pages with how we're going to open and to whom, but we thought we'd let you know about all the great stuff you can do without anything being open at all.  After all, with ample sea air, vast hills, long stretches of sandy beaches, wooded valleys and pollution-free dark skies all around, we think this is the perfect opportunity for you and your family to rediscover the great outdoors!  Here are our top 5 activities to get you out, about and into that fresh air we've all been longing for!
 Go rock pooling at Poppit Sands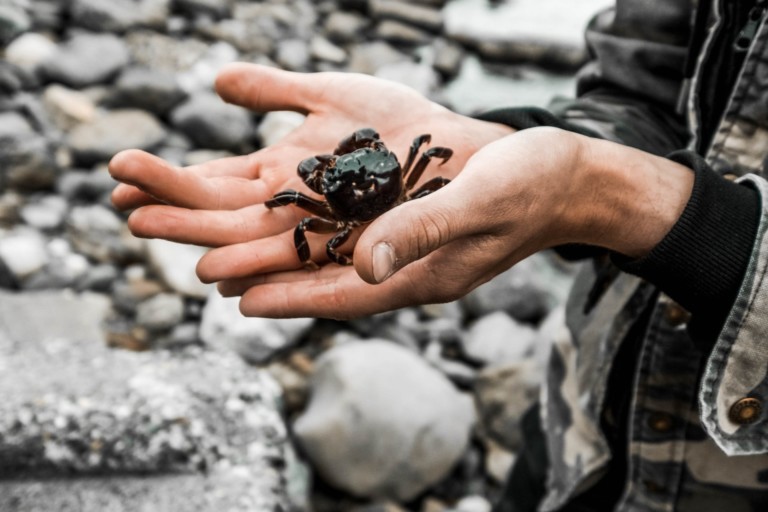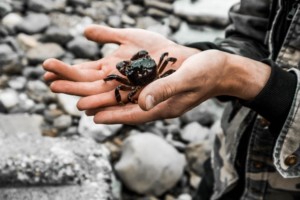 If you've stayed with us before, you'll know that the beautiful sandy cove of Poppit Sands, where the river Teifi flows up from Cardigan town and meets the sea at Cardigan Island, is only a stone's throw from Croft Farm and Celtic Cottages.  It's many a guest's favourite spot for many reasons; the views of the island and of Victorian-style hamlet Gwbert are spectacular, its reed-filled sand dunes are the best napping spot in the West, it has a great cafe and a lifeboat station so that your family feel safe and cared for, but most of all, it has the best accessible rock pools for miles around.
Bring your nets because there's so much to discover in these watery pools that many creatures call home.  Your children will be fascinated to discover sea anemones, waving their colourful tentacles in a cheery fashion, as well as tiny shrimps hopping on the pool beds hoping for tasty titbits.  There are often small crabs living just below the sandy beds, and keep an eye out for the curled, tubular holes left by sandworms.  You might even see a starfish!  It's important to make sure that while you are able to use a net in the rock pools, sometimes it's kinder to just peer through the clear waters and watch these sea creatures going about their day and leaving them safe and secure in their retreating homes.
2. Walk the stunning coast path

West Wales is known for its coastal beauty, and at Croft Farm and Celtic Cottages, we're smack on the border of two of its most magical walking routes; the famous Pembrokeshire Coast National Park's coast path and the Ceredigion Heritage Coast.  Both offer stunning walks and spectacular, unforgettable scenery and both would certainly reinvigorate your passion for the great outdoors.  To the south in Pembrokeshire, the path meanders through valleys and coves from Moylegrove to the open space of Newport sands before climbing alongside the ridge of the Preseli Hills towards Fishguard and around to the wild most westerly point of Wales at the St Davids Peninsula.  To the north of Poppit Sands, the high cliffs at Cardigan Island eventually give way to stunning Mwnt, the cove with the tiny church, and then veer off towards the fishing villages of Aberporth, Tresaith and Llangrannog, along cliff tops full of smuggler's caves and whispers of pirate's tales.
Please see our earlier blog about our 3 favourite coast path routes to take from Poppit Sands for more precise ideas.
3. Watch for resident dolphins and porpoise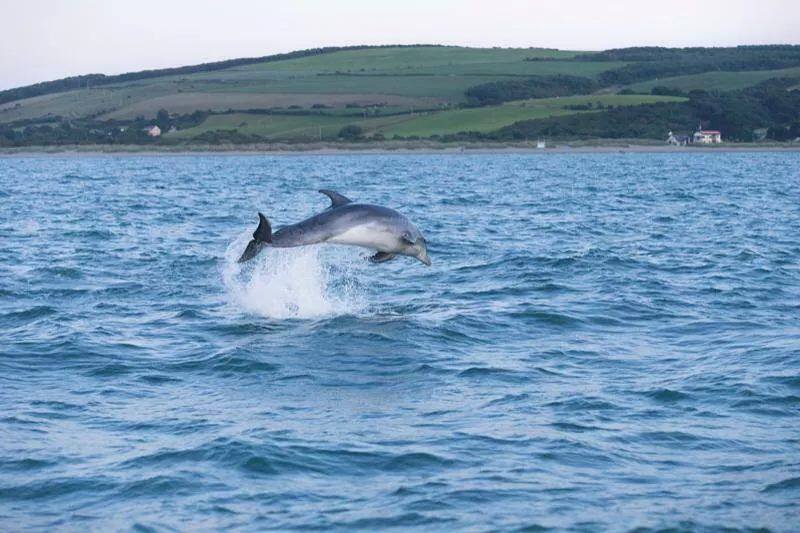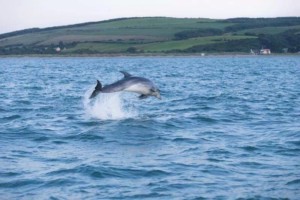 Let's be honest, we've all been dreaming of the sea having been cooped up indoors for months, and what better way to take in the wild energy of the sea than to try to spot some of its most famous inhabitants.  There are many great sunset spots near your holiday accommodation, but Mwnt has to be a must-see for all aspects of the great outdoors experience.  Clifftop views? Check.  Beautiful secluded beach? Check.  Historic hilltop church?  Check.  Spectacular sunset spot? Check.  One of the best places in all of West Wales to see dolphin pods playing in the early evening water?  Check!  Just pack a picnic dinner, take up a spot on the hilltop above the beach and wait…you won't be disappointed!
4. Take a cycle and see some surprising residents
There are many beautiful cycling routes available all across Wales, and in Ceredigion, we're lucky to have the Cardi Bach traffic-free cycle route which follows the old railway line that ran from Cardigan to Whitland.  It runs through the fantastic Teifi Marshes towards the Welsh Wildlife Centre, a superb nature reserve only a mile's cycle from Cardigan town which is full of boggy, damp marshes and home to kingfishers, herons, rare butterflies, otters and…water buffalo.  Yes, that's right, this riverside area in Wales is home to some of the oldest livestock breeds in the world.  Not quite what you'd expect of an ancient Asian herd, but they absolutely love the watery West Walian swamps, even if they're not quite as humid as their original homes!  They keep the pesky scrubby weedy plants out of the reserve by grazing on them, leaving only a little bit of trampled bracken in their wake, and can be seen from Spring to Autumn patrolling the reserve in a happy herd, thoroughly enjoying the great outdoors themselves.
We wrote about The Welsh Wildlife Centre recently – take a look at our blog here for more information on this amazing location
5.
Feed the animals back at Croft Farm.
When you're not out taking in the beaches, the woodland or picnicking in wild spots, you can also take advantage of the great outdoors right here on our working farm. We're privileged to be situated in such a beautiful spot, surrounded by green and fertile fields, with the majestic Preselis in the background as a guardian over our land.  From here, we look after our variety of goats, rabbits, guinea pigs,  Jacob Sheep, Kune Kune pigs and Jessie and Eeyore, our cheeky donkeys – plenty of characters here to keep you out in the great outdoors making friends and enjoying feeding time!  And when the kids have exhausted themselves with the excitement of play, then the adults can also take in the night sky from the warmth of a bubbly hot tub…but only if you've booked our cottages with hot tubs!
We may not be sure what the future looks like for our pool, play areas, leisure facilities or indeed other activities in the area.  But what we do have in abundance here in West Wales is the great outdoors – Mother Nature is a great babysitter!