Blog: coast path walks near Croft Farm:
One of our favourite things about living, working and entertaining guests at Croft Farm is the bucolic rolling farmland on which we've built our farm cottages, with space to run and roam and play with the animals.  But we also love the fact that we're conveniently located right on the border between Pembrokeshire and Ceredigion, meaning that we're in the perfect position to enjoy all of the activities, amenities and scenery that these drastically different counties have to offer.
Apart from the green grass of home and the iconic Preseli Hills nearby, we also border the Celtic sea, meaning that we're able to offer coastal adventures galore.  Pembrokeshire is the only coastal national park in the UK, with dramatic cliffs, famous islands and large sea bird populations, whereas Ceredigion is home to complex dune systems, sea caves and a large population of curious bottlenose dolphins.  Both counties offer a plethora of water-based activities, including coasteering, boat trips and surfing, but by far our favourite coastal activity is hiking the beautifully laid out coast path walks which lead to fantastic viewpoints and hidden coves.
By all means, bring your swimming costume, but if you're a fan of a great walk in the fresh sea air, put on your walking boots, pack a flask and some sandwiches and follow our guide to 3 stunning coast path walks near your holiday base here at Croft Farm.
COAST PATH WALKS 1: POPPIT TO MOYLEGROVE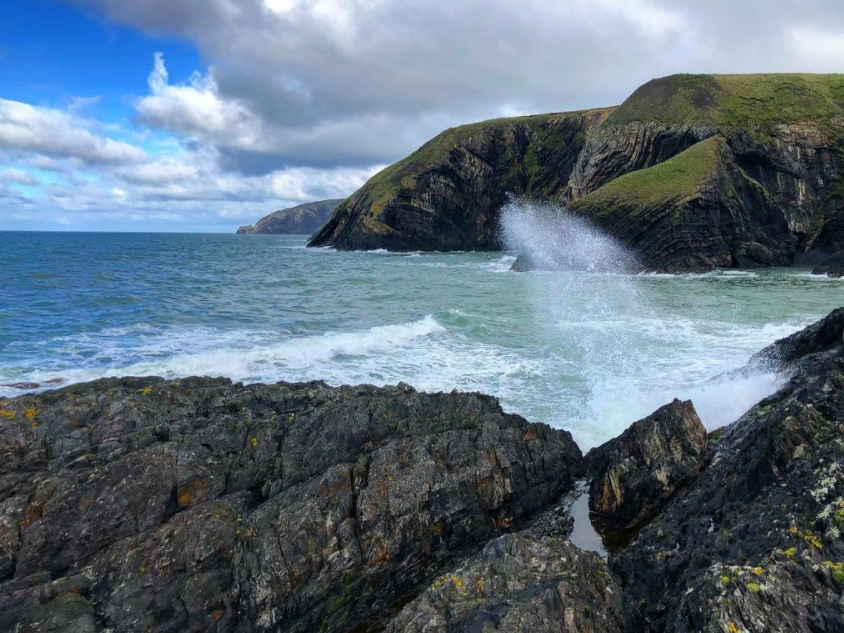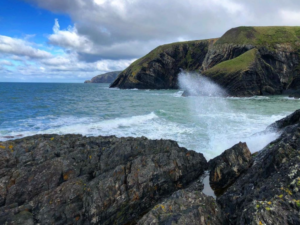 Poppit Sands are just under a 3-mile walk from Croft Farm, but if you'd like to start your coast path walks refreshed, then why not drive to Poppit (which takes about 10 minutes via St Dogmaels) and head off from there?  
This popular stretch of sandy shore affords views of its own across the coast towards Gwbert and Cardigan island, and this is known as the point at which walkers cross from Poppit in Pembrokeshire to Cardigan in Ceredigion.  But for this walk, we're heading south, firmly into North Pembrokeshire and towards the delightful village of Moylegrove.
This walk is a moderate one due to the high cliffs around Cemaes Head, which rises above Poppit Sands to the south beyond the lifeboat station.  You pass through a farmyard with a campsite (you'll know the one when you see the yurts) and veer left uphill towards a road.  The highest cliffs are at the next point, a mile away at Pen yr Afr, but it all goes (thankfully) downhill from here as you enter the mature reserve, passing a ruined lookout post along your way.  Notice the dramatic, sharp strata along the cliff faces here; around 500 million years old!
As you head along towards the stunning Ceibwr Bay with its equally dramatic rock formations, you have sensational views down the North Pembrokeshire coastline towards Strumble Head lighthouse.  If you're walking any coast path walks in this area around 1 pm, you might even see the Stena Line ferry making its way towards Rosslare!  You'll drop down into Ceibwr bay and past the ruined lime kilns before crossing a tiny footbridge – can you spot the old iron age fortifications?
The rest of your journey towards Moylegrove will be on the tarmacked road.  Be careful, this road is very narrow but affords beautiful views of the valley and farmland that lead you into the heart of this riverside village, dotted with Pembrokeshire cottages.
The walk is, in all, about 7 miles, with the most physical of efforts being made at the beginning.  If you don't fancy heading back the way you came, then the coastal Poppit Rocket bus can take you back to Poppit Sands car park or into Cardigan for some well-earned lunch!
MILES: 7.21
DIFFICULTY: MODERATE
SUITABLE FOR WHEELCHAIRS AND PUSHCHAIRS: NO
DURATION: 3 HOURS AT A STEADY PACE
COAST PATH WALKS 2: GWBERT TO MWNT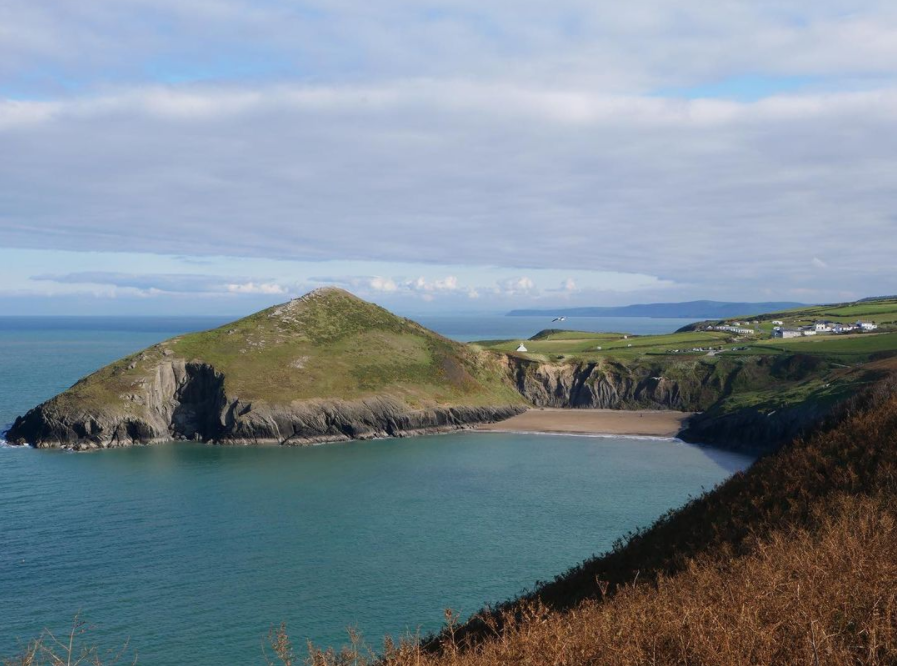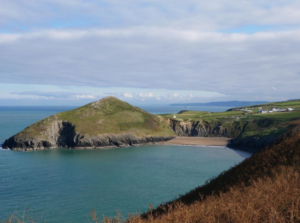 Gwbert, also known as Gwbert-on-sea on some maps, is located directly across the estuary from Poppit beach and can only be accessed by going back into Cardigan and out of it on the aptly named Gwbert road, or the B4548.  It's a small hamlet clinging to the cliffside, and if you've visited this area before, then you've probably visited its main attractions: The Cliff Hotel or Flat Rock Restaurant.  
We recommend starting your walk from the early 20th century Cliff Hotel, as the hill from Patch and Gwbert Boat Club is quite steep and could mean you'd use up all your energy too soon.  This time, you're heading north on the Ceredigion coast, travelling inland a little to avoid the precariously steep cliffs that have been the downfall of many a wrecked ship here over the years.  For this reason, you bypass some dramatic scenery and instead, follow the country road passed Cardigan Island Farm Park.  Once you enter the fields beyond the farm, you can look back across grassy clifftops and see a different, slightly more private view of Cardigan Island, and in autumn, perhaps spot its only inhabitants – a small colony of cheeky grey seals.
Turning back northward and there are a few steep descents into glacial valleys with footbridges and steppingstones guiding you safely across the seaweed-strewn rocks.   Ahead of you, looming ever closer, is the fantastic hill at Mwnt, indicating your closeness to the stunning headland that is your destination – in fact, you enter the National Trust site via a gate indicating you're at Mwnt beach.  This is the home straight!  Heading towards the beautiful cliffs adorned by the 14th-century pilgrim's church which was a refuge for pilgrims visiting the holy site of St Davids cathedral you can tell how pronounced this dramatic coastland is from Mwnt Hill, an incredible vantage point towards the north Ceredigion coast towards Aberporth.  Sharply below the hill, accessible only by a long series of stone steps, is the popular sandy bay which is a perfect picnic spot after your enjoyable coastal trek.  Grab The 405 Route bus back to Cardigan if your legs are a little wobbly after all of those steps!
MILES: 4.4
DIFFICULTY: MODERATE
SUITABLE FOR WHEELCHAIRS AND PUSHCHAIRS: NO
DURATION: 2 – 2.5 HOURS AT A STEADY PACE
COAST PATH WALKS 3: DINAS HEAD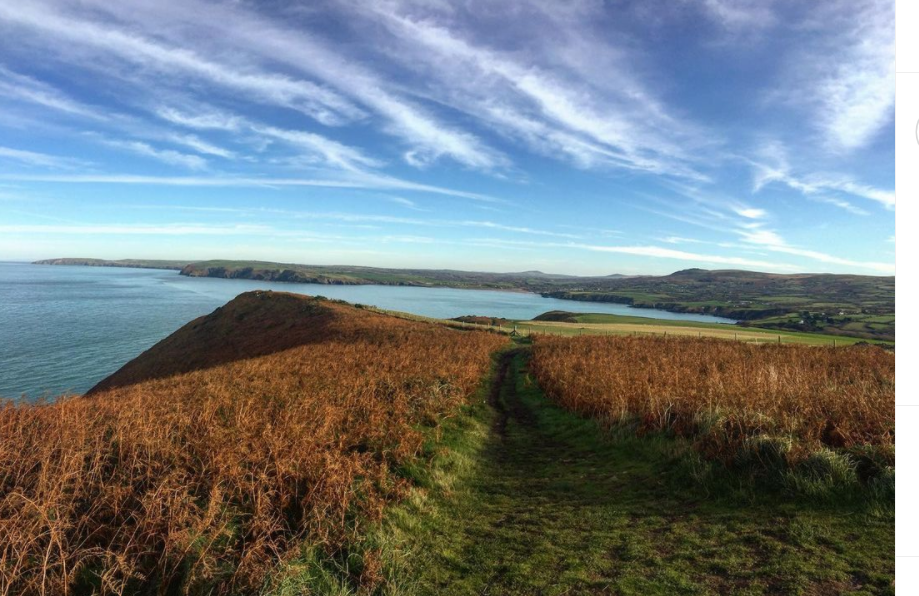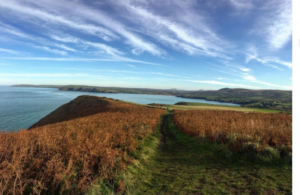 A mere 20-minute drive away from Croft Farm takes you to one of the most stunning coast path walks in all of Pembrokeshire, traversing the county's highest cliffs with public amenities, a pub and is one of the county's most popular circular routes.
Dinas Head, also known as Dinas island, is a peninsula which is partially detached from the land just west of Dinas Cross, south of Newport in Pembrokeshire.  This National Trust managed area is home to two of Pembrokeshire's most popular "secret" coves; Cwm-yr-Eglwys and Pwllgwaelod.  
Starting on the most northerly of the two, Cwm-yr-Eglwys, you'd need to drive down a very small B road entered from the right from the main Fishguard road before entering Dinas itself.  There are a large car park and boat club next to this gorgeous inlet, best known for its storm-damaged church, of which only one wall and the graveyard still remain after multiple storms in the 1800s swept the ancient pre-Norman church into the sea.  Now, a sea wall protects the hamlet and offers a small sandy beach for swimming and fishing.
From the car park, follow the road past the church and around towards a house clinging to the rock face on the southern elevation of the cliffs.  This leads to the beginning of the coast path that wraps around this headland, often steep in places like Needle Rock point, but still accessible for younger children.  The paths are wide but not suitable for pushchairs, and at its highest point, the cliffs are 465m high.  From the trig point, you can look north towards Newport and see Cardigan island in the distance.  Looking south, you see Fishguard, Goodwick and down towards the St Davids peninsula, its striking cairns visible on clear days.  
Descending down from the cliffs, you'll notice an abundance of sea birds who love this secluded spot that feels very much "out to sea", such as razorbills, fulmars and lesser black-backed gulls.  As you meander down further, the path joins the small tarmacked road that leads to Dinas Farm and down into the splendid cove of Pwllgwaelod.  This is the perfect spot for a rest, a drink or some lunch as this hamlet is home to the 500-year-old Old Sailors pub, with a splendid beer garden looking out over the small stony beach towards Fishguard Harbour.
Rather than climb the steep cliffs once again, you can then take a direct concrete footpath a little over a mile in length that runs through the valley that divides Dinas Head from the mainland and straight back into Cwm-yr-Eglwys, where you started.  
MILES: 7.8
DIFFICULTY: MODERATE
SUITABLE FOR WHEELCHAIRS AND PUSHCHAIRS: NO
DURATION: 3 HOURS AT A STEADY PACE
For more details about coast path walks in Ceredigion and Pembrokeshire, please visit the Wales Coast Path website, and follow our monthly blogs and social media pages for more activity ideas for your holiday here with us in West Wales.