Want to know some of our wild and wonderful best-kept secrets?
If you've visited us here at Croft Farm and Celtic Cottages before then we know that you already have an idea of the sheer wonder of this spectacular part of Wales, even if you've yet to discover its best-kept secrets.  Renowned for its blue flag beaches, mystical mountain ranges and the peace and quiet of its unspoilt countryside, this area is a big draw for intrepid visitors and people relocating for a tranquil lifestyle.  This means that it can often be busy here in the holiday seasons, and with everyone escaping the cities after a national period of lockdown, we've noticed a considerable increase in visitors to our popular spots such as Poppit beach and towns and villages such as Cardigan and St Dogmaels.
But don't worry!  The biggest joy of this area is that it has many hidden gems dotted along its coastline and tucked into valleys and vales.  If you're looking to come to this borderland between picturesque Pembrokeshire and captivating Ceredigion, we'll let you in on some of the less well-known but equally (if not more) stunning places to visit:  here are a few of West Wales' Best-Kept Secrets.
Best-Kept Secrets: Beaches
It's no big secret that we have a plethora of beaches to choose from within a close radius of Croft Farm, Poppit Beach being our nearest in just over 3 miles, or 7 minutes in the car.  This blue flag beach, with views of Cardigan Island, rock pooling heaven and the chance to see porpoise in the bay, is a very popular choice in the summer for a swim and in cooler weather for a dog walk.  But it tends to get crowded, and with the need for more space being increasingly important to us, here are a few other off the beaten track options for a more secluded stop-off.
Tresaith beach
Only 11 miles north of Croft Farm is the stunning cove of Tresaith.   Tucked quietly between Aberporth and Llangrannog, its position on the Ceredigion Heritage Coast means it has a stunning sea view and walks in both directions on the Ceredigion Coast Path.  The road to the beach is small and winding, but you'll not only want to take it slow due to the narrowness but also to take in the view of the jagged cliffs teeming with sea birds and the very likely chance of spotting one of this coastline's resident bottle-nosed dolphins.   Stop at The Ship Inn for a home-made lunch with a sea view before you leave.
Tresaith's best-kept secret? The waterfall that occurs where the river Saith cascades down over the cliffs and onto the beach creates a natural shower after your swim.
Ceibwr Bay
A little closer to your home from home at Croft Farm is the hidden bay of Ceibwr.  Only 5 miles away and just south of Poppit beach, it is easy to miss this gorgeous spot if you're driving south towards Newport.  You reach the tiny, ancient village of Moylegrove, studded with quaintly coloured Pembrokeshire cottages, but its best kept secrets are along a side road past the chapel.  The river Awen leads you down into a wooded valley to a viewpoint over the rocks that jut out towards the very tall northern cliffs.  Spend time staring out to sea in this powerful, magical spot, or make your way down to the tiny National Trust owned beach, which is relatively quiet for most of the year.  This is not a great spot for swimming due to its rocky position, but a paddle in high tide is a must.  Ceibwr's best-kept secret?  The Witches Cauldron, a jumble of wild rocks accessible by the Pembrokeshire Coast Path just a mile to the south.
Best-
Kept Secrets: Scenic Spots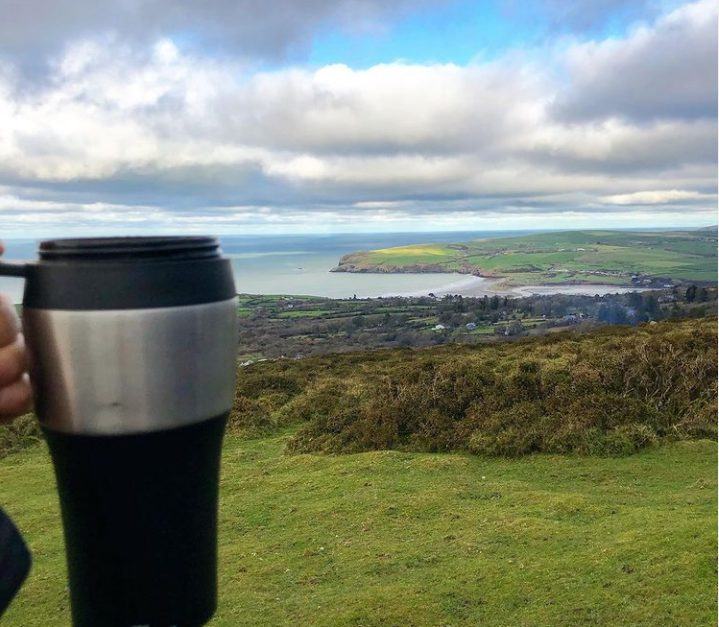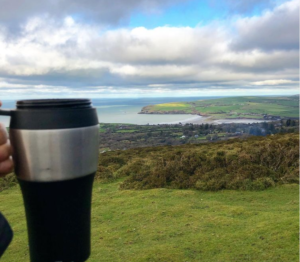 We know it's not always the right weather here on the West coast for a day spent lying on the beach, but this doesn't mean that you should miss out on the spectacular scenery that West Wales has to offer.  Thankfully, the National Park agrees and has some designated stop-offs for you to enjoy on a day out.  You could pretty much pull the car over for a photo opportunity at every turn here but let us show you some safe best-kept secrets for virtuous vantage points.
Gwbert Viewpoint
The Cliff Hotel and Flat Rock Restaurant are two extremely popular eateries in Gwbert, a small Victorian cliffside village just outside Cardigan.  They're the perfect spot for a romantic meal or spa treatment with a stunning view across Cardigan Bay.  But if you're not in the mood for being around the crowds, there's a less social spot that's perfect for taking a flask and enjoying the same stunning view.  Just half a mile past Patch beach and Gwbert Yacht Club is a small turning to your left as you're going up the hill towards the village.  Pull in here for an incredible view over Poppit beach and out towards the seal caves and the Irish sea.  This is one of the best-kept secrets in the Cardigan area…enjoy!
Newport Mountain
As local legendary poet Waldo Williams referenced many times in his poems, the Preseli Hills make up the solid backbone of the coastal beauty of Pembrokeshire.  Many people come to West Wales to hike along the 8-mile Golden Road, taking in stunning peaks such as Foel Eryr, where you can often see Ireland on a clear day, Foel Drygarn with its Bronze Age stone ramparts, and the challenging ascent up Carn Ingli, the mountain of the angels which sits high above the beautiful, popular fishing town of Newport.  But if you're looking for the same views without quite as much puffing and panting, then one of Newport's best-kept secrets is its tiny roads across mountains and moorland. As you're leaving Newport heading south on the road towards Fishguard, you'll see a sharp left-hand turn with a sign saying "Ffordd Bedd Morris".  It's a steep incline past ancient farmhouses, over cattle grids and across wild gorse-laden moorland, but 2 miles up you'll find a very small pull in with some of the most breath-taking views in Pembrokeshire.  To your right, peer across Bedd Morris towards Carn Ingli and beyond towards Cardigan Island.  To your left, Dinas mountain and Fishguard bay sit dramatically on the horizon.  And below, the bucolic countryside of cottages and farms are the foreground to the dramatic beach views of Newport and Cwm-yr-Eglwys, and all coves in between.  This spot is one of our favourite best-kept secrets of all!
Dinas Viewpoint
Keep going along the same road over the mountaintop from Newport and you'll eventually begin to wind down towards the lovely village of Dinas Cross.  Despite mostly being a petrol spot between Newport and Fishguard, it has some stunning traditional stone cottages, an ancient pub called The Ship Aground and a fantastic chip shop.  So why not take your fish and chips to one of Dinas' best-kept secrets?  The viewpoint is so high above the village itself that the view almost looks like an optical illusion.  Dinas Head, the dramatic peninsula with the highest cliffs in Pembrokeshire, sprawls out ahead of you, while to the left, you can watch the Irish ferry head out of Fishguard port and bob the 50+ miles over the waves to Rosslare.
Best-Kept Secrets: Lunch Spots
Due to its abundance of organic crops and coastal catches, this part of the world is known for its fresh food and local produce, and even has micro-breweries popping up all over the two counties.  But aside from the more obvious eateries that you can pass in the car, there are a few secret ones that afford incredible views as well as gorgeous, freshly cooked meals.
The Old Sailors, Pwllderi
12 miles may be a bit of a drive for a quiet lunch, but this is one of Pembrokeshire's most delicious best kept secrets, and it has one of the most stunning sea views from any restaurant in West Wales.  This former 300-year-old smuggler's den is tucked between cliffs at Pwllgwaelod and has a beer garden to die for, only 10 steps from the stunning sandy cove.  With views towards Fishguard harbour and Lower Town, you'll find fresh fish and homecooked meals on the menu, as well as locally brewed beers, and a cosy open fire for colder days out exploring this secret spot beyond Dinas Cross.
The Ferry Inn, St Dogmaels
You'll certainly have driven past it on your way to nearby Poppit beach.  But the small, unassuming frontage of this ancient drinking spot doesn't give away its stunning river views and large outside eating area.  Set right on the banks of the River Teifi with views towards Gwbert Sound, this pub has won many awards for its outstanding service and excellent food and it's certainly worth booking ahead.  Freshly caught fish and locally produced meats are cooked fresh on site – perfect for a post-beach lunch watching the world…and the boats…go by.
The Welsh Wildlife Centre, Cilgerran
This often-overlooked lunch spot is a mere 3.5 miles from Croft Farm, and whilst the centre is known for the stunning Teifi marshes that surround it, full of nature trails and hideouts to discover Ceredigion's native wildlife (and its not-so-native resident water buffalo), you can also enjoy an excellent feast at the Glasshouse Café.  This beautiful café sits high above the trees with panoramic views across the eastern reserve.  With freshly-cooked lunches, soups, meals and cakes served every day, it's a fascinating spot for a day out with the kids and the dog, with a fantastic lunch after your wild adventures.
Best-Kept Secrets: Secret Surprises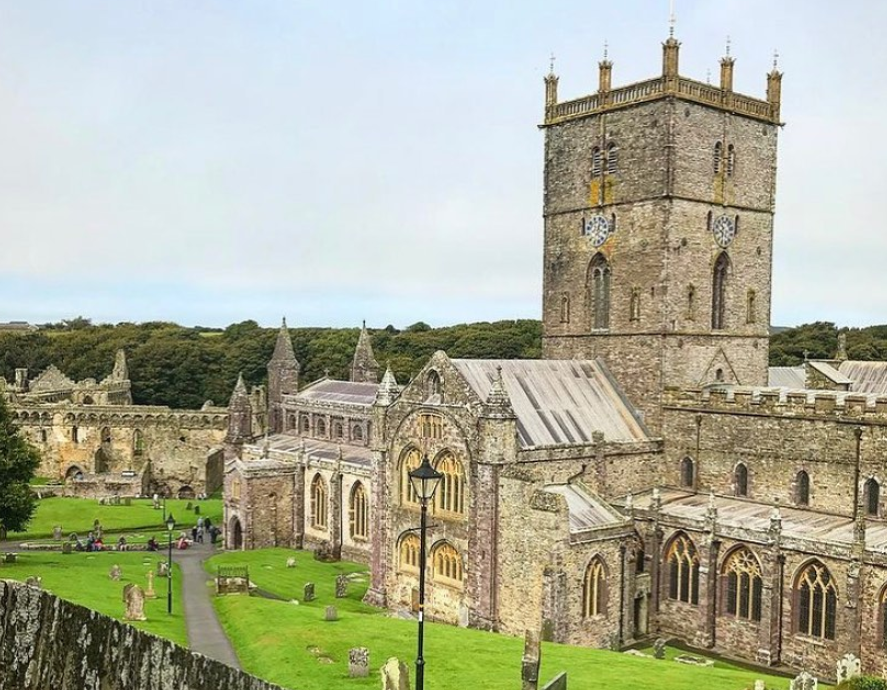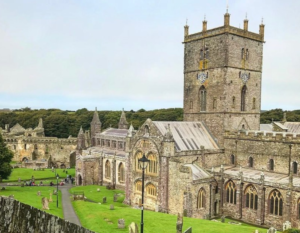 And finally, here are some links to places and activities that you wouldn't necessarily expect to find in the wild West…
Castell Henllys Iron Age Fort – there are remnants of iron age villages dotted across the West, but at Castell Henllys you can visit a reconstructed village, complete with face paints and re-enactments.  A totally different, fun-filled experience for all the family.
St Davids, Britain's smallest city – it's about a 50-minute drive south along the stunning Pembrokeshire coast to this tiny cobbled village, inaugurated to city status due to its breath-taking cathedral, home to Wales' patron saint.
Nevern's Bleeding Yew – the quaint hamlet of Nevern is most well-known for its large stone Celtic Cross, but in the very same churchyard as the cross is its less-known fabled yew.  It is said that a farmer was hung here for stealing sheep, but after his death, it was proved that he was not the culprit.  It's said that the tree has 'bled' ever since the injustice occurred over a hundred years ago.
Visit Dobby's grave at Freshwater West – if you're Harry Potter Fans and fancy a Potter-themed day out, then the hour's drive south is well worth it.  Not only is this one of the most popular beaches in West Wales, with miles of sandy shoreline, plenty of shallow swimming potential and a truly excellent food van for a spot of lunch, it's also the resting place of the best house elf that ever 'lived'.
For more best-kept secrets, activity ideas and history of this gorgeous part of the world, follow us on social media or check back to our blog page for updates and articles to help you make the most of your stay with us at Croft Farm.