2016 Guest Reviews Roundup For Croft Farm & Celtic Cottages
As 2016 comes into its final few weeks we're looking back on the year from the perspective of what our guests have had to say about their time spent here at Croft Farm & Celtic Cottages.
We are always very grateful to our guests who take the time to leave reviews because although we truly believe we strive to keep improving, to provide memorable family-friendly farm holidays here in Pembrokeshire – ultimately it's our guests' thoughts that allow us to know whether we've achieved that. And often it's their reviews which help other new guests-to-be to decide whether or not to take a holiday with us as well.
We now have over 100 "Excellent" rated reviews on Tripadvisor, so without further ado, here's a selection those left during 2016 to give you a snapshot of what a Croft Farm & Celtic Cottages holiday is like…
"A Cracking Find – We stayed in Talar Aur which is quirky as all the bedrooms are downstairs. Excellent accommodation and great facilities. The grandchildren loved feeding the animals every morning. The owners and staff were brilliant and nothing was too much trouble. Great location for days out with lots to see. We will be back."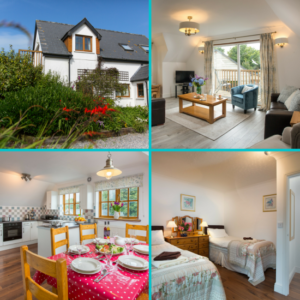 "Awesome Break – Croft Farm is awesome I stayed at The Granary, the cottage was gorgeous with a little fenced outside area for my little man Biscuit to play in safety.
From the moment I booked Andy, Sylvie and Charmaine treated me like a family member coming to stay, you can honestly feel the family feeling from day one…
The cottage we stayed felt like I was coming home – I would highly recommend Croft Farm it's good for single people, couples with no children to families it's a perfect place there's loads to do"
 "A Must Visit – We needed a little break away with our two small children (2 and 10 mths) and I am so glad we found Croft Farm. We had such a lovely stay, very relaxing which was exactly what we needed but with enough to do to keep the children entertained.
We stayed in Meadow Cottage which has stunning views of the surrounding countryside and Cardigan Bay. Our two year old loves seeing the sheep who came to visit at our living room window each morning!
We used the pool several times which was a lovely temperature, very important to us with little ones and visiting outside of summer. Both kids loved the soft play which was great for our younger child who is wanting to play but not yet moving enough to be able to get involved in certain activities
Feeding the animals was also a big hit and we got to take away some very delicious eggs from the chickens! Our two year old still mentions this!
The cottage itself had everything we needed and was a perfect size for a family of four (with space for more if needed)
We especially enjoyed the hot tub once the children were in bed, such a peaceful setting it's impossible not to relax. Then coming inside to the toasty log burner was so lovely!
Could not recommend Croft Farm enough and we hope to be back soon"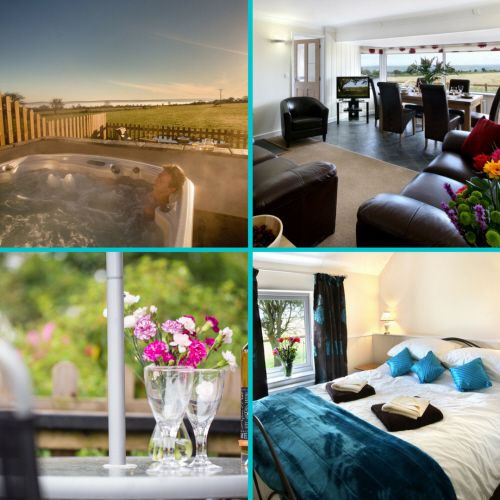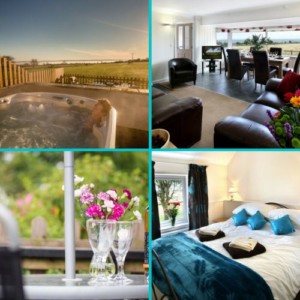 "Lovely Family Break At Croft Farm – Our 2 and a half year old loves animals so after researching many farm stays we chose Croft farm. We also have an 11 month old with us too. We stayed in the Dairy. The boys stayed in a loft room and we had a bedroom downstairs with bathroom and open plan kitchen / diner / living room. Enough space for us. Whatever cottage you stay in you are right next to the pool, farm and play barn. We fed the animals every morning at 9.30, favourite with our toddler was collecting eggs and then coming back to the cottage and cooking scrambled eggs! We spent most of our time at the cottage and on the farm. It has a very home from home feel and Andy and Sylvie are very welcoming, open and friendly. The cottage has all you want and even has things like foil, cling film and dishwasher tablets which some self catering places seem to go amiss with these sorts of things.
We had welsh cakes, mead, milk, flowers, cordial sachets for kids, tea and coffee on arrival.
The swimming pool is clean and has shower, changing rooms and swimming costume dryer (very handy!).
There is a laundry room with 2 washers and 2 dryers.
We visited Cardigan town and cinema (rainy day), Cardigan island (OK coastal walk) and Scolton Manor.
All in all a fab holiday and one we and the kids will remember. We would not hesitate to recommend to all our friends and family and stay again in the future."
"Fascinating Farm Week In Wales – This is a wonderful place for a short holiday. On the face of it there's not a lot going on in the area – about four miles from Cardigan – and certainly no glitzy, engineered entertainment. But if you want a reminder of the pleasures of discovering landscape and sensing a bit of history you'll find there is plenty to do and see. And if this is not your particular interest, the farm itself is a self contained facility for kids and adults. The cottages are reclaimed farm buildings, carefully modernised and kitted out and includes wifi. The farm has a relaxed view of animal husbandry and visitors are encouraged to feed, pigs, goats, chickens, ducks and donkeys. There is an extensive play area and best of all, an indoor pool that's ideal for youngsters, learners and relaxers. The impressive Pembrokeshire coastal path is just four miles away, Cardigan is a small town that seems to be on the rise with a castle restored thanks to a big grant from the EU and the neighbouring village of St Dogmaels has a terrific Tuesday market proud of its local produce. On the other side of Cardigan is the Welsh Wildlife Centre where you can watch water buffalo in the summer months and beyond, another more conventional castle at Cilgerran.
There are ten cottages of varying size. The two of us stayed in the Granary which was perfect"
"Great Base For A Holiday – A great place to stay! Croft House was clean & welcoming with mead, welsh cakes & flowers on arrival. Beautiful house to accommodate our party of 10. On site swimming pool that is clean and well maintained plus our own hot tub that got plenty of use too! The kids loved feeding the animals, collecting the eggs & petting the guinea pigs each morning. Plenty of other facilities – table tennis, air hockey, table football, play shops, soft play, pool table, soft play plus outdoor playground and big football field! Andy & Sylvie were really friendly, approachable & welcoming. This was our 2nd visit & we'd definitely return again."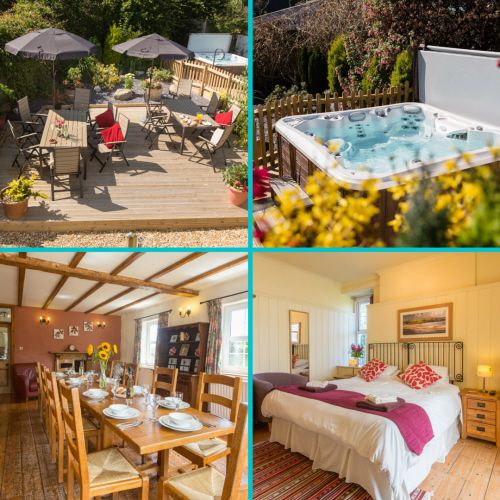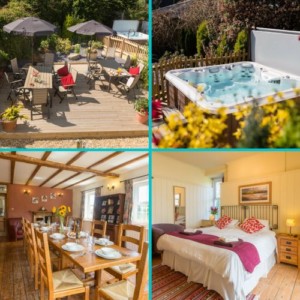 "Amazing Place – What a gem. We have stayed at quite a few farms before however this was the best. The cottage was spotless and had everything we needed. Some welsh cakes and Mead and flowers waited for us on our arrival which was a real treat after a long journey.
Andy the farmer and his wife were welcoming and gave us a tour when we arrived. Our kids loved the animal feeding (loads of friendly animals), with Andy making sure each child got a turn and no one was left out. We got fresh eggs every morning!
The kids also loved the play barn, playground and fields. And the added bonus of a swimming pool which was nice and warm and perfect for the kids.
Overall we had a great time at the farm."
"Fantastic Fun On The Farm – Our group family holiday at Croft Farm was brilliant. So many facilities on site and lots of places to play; the adventure playground outside, the pay barn inside, the swimming pool, the squishy shapes. And that's before visiting all the animals at any time you fancy!
The Barn was comfy and cosy for the seven of us and the dishwasher and wifi made it feel like a real home from home!
This is a beautiful part of the world with so much to do and see that we are hoping to come back and catch the bits we missed this time."
"Lots To Do – Never Left The Farm! – Visited for 4 nights at the end of April, taking our Grandchildren (4 years & 18 months) on holiday for the first time. We stayed in Cartwheel Cottage, which I chose because there were no stairs to worry about, and the kitchen door opened out straight onto a large lawned area.
We'd intended to check out the nearby beaches, but instead spent our time flitting between the animals, the play barn, the playground and the swimming pool, which made for a very relaxing long weekend.
The pool was the main reason for choosing Croft Farm: we used it every day and found that, even though it was a bank holiday weekend, we were able to pick a quiet time and have the pool either totally or mostly, to ourselves. The pool and surrounding area was very clean and warm (unfortunately, we didn't get the opportunity to use the sauna).
The cottage was well equipped – the living room was quite small and dark, so we spent most of our indoor time in the kitchen, which had a big table and plenty of room for the four of us.
I'd done a lot of research into alternative options before booking this holiday, so had high expectations of Croft Farm – my expectations were met, and I would be more than happy to return"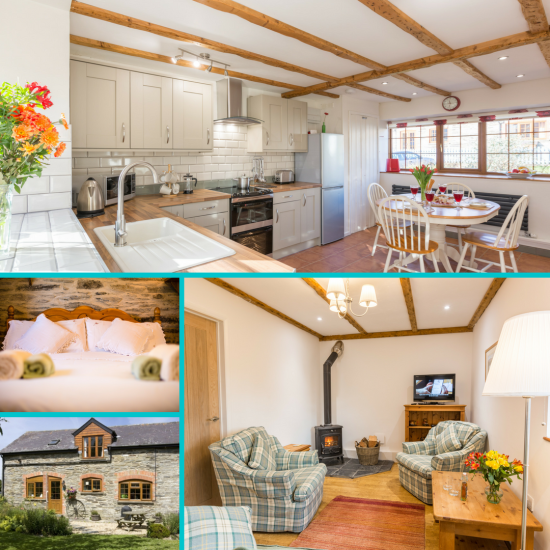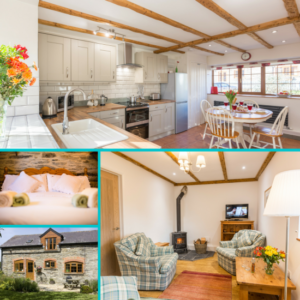 "Lovely Views, Good Facilities – We stayed at Meadow Cottage for a week. The cottage is comfortable with everything we needed, and along with this and the gorgeous views it was difficult to a reason to go out each day! The lambs in the field behind the cottage were lovely too! We used the hot tub regularly and the teenage boys loved the table tennis and pool (oh and the free wifi!). Hampers from Llwynhelyg Farm Shop were delivered just before our arrival and contained lots of nice local produce. We visited Mwnt and saw seals with the Bay to Remember boat trip, both are recommended. A lovely holiday!"
You can see our full reviews at Tripadvisor HERE.
To conclude….we're delighted to have received these lovely reviews. Knowing that we have played a part in these memorable holidays for our guests is what makes all the hard work worthwhile!
If you would like to find out more about holidaying with us at Croft Farm & Celtic Cottages please do give us a call on 01239 615179 for more information, or check out all ten of our Self-Catering Cottages further on the website, to see which one most suits your needs. We look forward to hearing from you!